Guns N 'Roses (sometimes abbreviated or GN'R GNR) is an American Hard Rock bandformed in 1985 in Los Angeles. Led by singer Axl Rose, it has become in a few years one of hard rock's most popular, with over 100 million albums sold worldwide, including 43.5 million in the U.S. .
The group was born from the merger of three members of the LA Guns (Tracii Guns onlead guitar, bassist Ole Reich and drummer Rob Gardner) with two members of HollywoodRose (singer Axl Rose and Izzy Stradlin on rhythm guitarist), d hence the name Guns N 'Roses. Shortly after the formation of the group, Ole Reich is returned and replaced by DuffMcKagan. Failed to attend a rehearsal, Tracii Guns is then replaced by Slash. The newline-up is made quickly, but after a tour in California, drummer Rob Gardner left the bandand was replaced by Steven Adler, a close friend of Slash.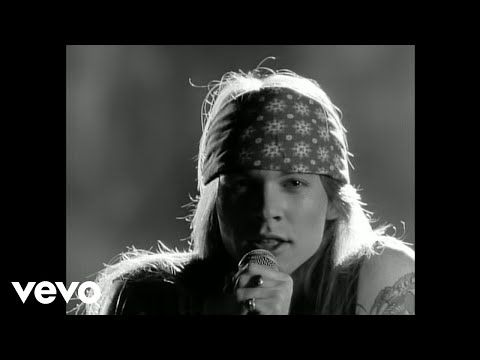 And as always, a remix….
Lyrics:
She's got a smile that it seems to me
Reminds me of childhood memories
Where everything
Was as fresh as the bright blue sky
Now and then when I see her face
She takes me away to that special place
And if I stared too long
I'd probably break down and cry
Sweet child o' mine
Sweet love of mine
She's got eyes of the bluest skies
As if they thought of rain
I hate to look into those eyes
And see an ounce of pain
Her hair reminds me
of a warm safe place
Where as a child I'd hide
And pray for the thunder
And the rain
To quietly pass me by
Sweet child o' mine
Sweet love of mine
Where do we go
Where do we go now
Where do we go
Sweet child o' mine